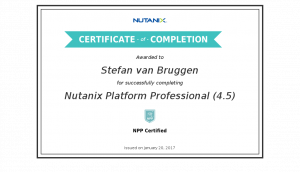 There we go! Nailed the NPP exam last friday.
The exam itself was pretty good, most questions were relevant to real life situations instead of the usual stuff like "Our product is the best, please mark the answer that says we are the best".
The only downside is that the training for this exam is not nearly enough, you definitely need some experience working with Nutanix to be able to achieve a high enough score to get the certification.
Anyway, onwards to the next couple of certs: Windows Server 2016!